Health Concerns
Antioxidant Support
Genders
Dogs and Cats
Recommended Use
Antioxidants - Anti-inflammatory properties
Recommended Dosage
Up to 25 lbs 1/2 capsule daily
Over 25+ lbs 1 capsule daily
Warning
This product was developed solely for dogs and cats. Keep out of reach of children.
Format / Size / Packaging
Format: 60 Vegetable Capsules (500mg)
Packaging: HDPE Bottle
Note
Tru-Pine® products are a trademark of Altramed® Canada International Inc. For more information contact us at 1-888-900-2299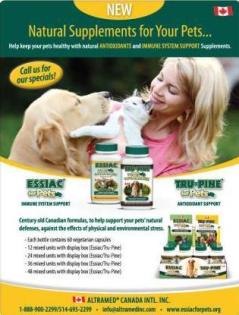 TRU-PINE® for Pets Capsule formula
Also visit: Essiac® for Pets
Product Description
The Original TRU-PINE® is made in Canada of Canadian Pine Bark.
Herbal quality
TRU-PINE® is a premium quality proprietary blend of Canadian Pine Bark Extract(Pinus Strobus), Rose Hips fruit (Rosa canina) and Vitamin C. Its unique formula ensures consistent qulity in every capsule. TRU-PINE® is grown without the use of herbicides or pesticides, and is gluten free. Tru-Pine® is produced to a pharmaceutical grade certification.
Good manufacturing practices
TRU-PINE® is blended and bottled in a cGMP (good manufacturing practice) certified manufacturing facility. All employees are required to wear protective head, body and footwear gear. All ingredients in TRU-PINE® are submitted to quality control tests, including high performance liquid chromatography, near-infrared spectrometry and microbiological analysis.
The Technology
The technology developed to produce TRU-PINE Original Canadian Pine Bark Extract was researched and developed by Agriculture and Agri-Food Canada, resulting in a uniquely balanced pine bark formula and a state of the art extraction process. The proprietary upright water extraction process preserves the integrity of the source material, producting a pure and clean extract without the use of solvents.
Product Ingredients
Ingredient
Name

Label
Claim

White Pine (Pinus strobus) extract of bark standardized at 95% of proanthocyanidine
52.6 mg
Vitamin C
50 mg
Rose hips
150 mg
Non- medicinal ingredients:
Hypromellose (capsule),vegetable magnesium stearate, microcristalline cellulose.
The information on this website is not intended to substitute professional advice. It is provided only as information, by Altramed Inc. One should always remember to seek professional advice from a physician, pharmacist, naturopathic doctor, or other qualified health professionals when taking dietary supplements with other medications.