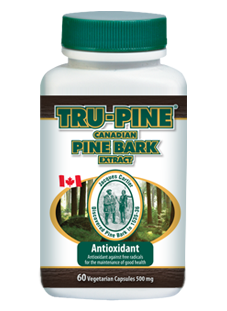 Health Concerns
Immune System Support - Powerful Antioxidant - Inflammation
Who is this product for:
Adults: Female / Male - Ages 18-50+
Suggested Use
Used as an antioxidant against free radicals for the maintenance of good health
Suggested Dosage
Take 1-2 capules, 1 hour before meals or 2 hours after meals, 2 times per day. Consult a health care professional for use beyond 3 month.
Caution:
Do not use if pregrant or breastfeeding. Do not use if safety seal under the cap is broken or missing. Keep out of reach of children
Format / Size / NPN/DIN
Format: 60 vegetable Capsules per bottle
NPN/DIN: 80019015
Note
Tru-Pine® products are a trademark of Altramed® Canada International Inc. For more information contact us at 1-888-900-2299
Tru-Pine® Capsules
Also visit: Tru-Pine Liquid Extract
Product Description
The original TRU-PINE® is made in Canada with Canadian Pine.
Our quality
TRU-PINE® is a premium quality proprietary blend of Canadian Pine Bark Extract(Pinus Strobus), Rose Hips fruit (Rosa canina) and Vitamin C. Its unique formula ensures consistent qulity in every capsule. TRU-PINE® is grown without the use of herbicides or pesticides, and is gluten free. Tru-Pine® is produced to a pharmaceutical grade certification.
Good manufacturing practices
TRU-PINE® is blended and bottled in a cGMP (good manufacturing practice) certified manufacturing facility. All employees are required to wear protective head, body and footwear gear. All ingredients in TRU-PINE® are submitted to quality control tests, including high performance liquid chromatography, near-infrared spectrometry and microbiological analysis.
The Technology
The technology developed to produce TRU-PINE Original Canadian Pine Bark Extract was researched and developed by Agriculture and Agri-Food Canada, resulting in a uniquely balanced pine bark formula and a state of the art extraction process.
Product ingredients per capsule:
Ingredient
Name

Label
Claim

White Pine (Pinus strobus) extract of bark standardized at 95% of proanthocyanidine
52.6 mg
Vitamin C
50 mg
Rose hips
150 mg
Non- medicinal ingredients:
Hypromellose (capsule),vegetable magnesium stearate, microcristalline cellulose
Gluten, lactose, yease and pesticide-free. Non- irradiated.
The information on this website is not intended to substitute professional advice. It is provided only as information, by Altramed Inc. One should always remember to seek professional advice from a physician, pharmacist, naturopathic doctor, or other qualified health professionals when taking dietary supplements with other medications.