Health Concerns
Immune Support
Genders
Dogs and Cats
Recommended Use
Immune System Support
Recommended Dosage
Up to 20 lbs 1/2 capsule twice daily
Over 21 - 50 lbs 1 capsule twice daily.
Over 50 lbs+ 1 capsule twice daily
Warning
This product was developed solely for dogs and cats. Keep out of reach of children.
Format / Size / Packaging
Format: 60 Vegetable capsules per bottle (500mg)
Packaging: HDPE Bottle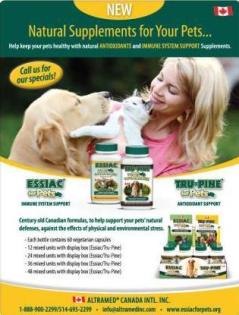 ESSIAC® for Pets Capsules (500mg)
Also visit: Tru-Pine® for Pets
Product Description
Natural Supplements for Your Pets! Over 90 years of history…
Herbal quality
The herbs in ESSIAC® are grown specifically for Essiac Canada International which are harvested at peak times in order to ensure maximum botanical potency. The herbs used in ESSIAC® are grown without the use of herbicides or pesticides, and are not irradiated. ESSIAC® is produced to a pharmaceutical grade certification. Same great quality for your pets!
Good manufacturing practices
ESSIAC® is blended and bottled in a GMP (good manufacturing practices) certified manufacturing facility. All employees are required to wear protective head, body and footwear gear. The herbs in ESSIAC® are submitted to quality control tests, including high performance liquid chromatography, near-infrared spectrometry and microbiological analysis.
Giving ESSIAC® to your Pets!
ESSIAC® for pets is made from Nurse Rene Caisse's Proprietary Herbal Formula, manufactured only in Canada by ESSIAC Canada Intl. Our new ESSIAC for Pets capsule formula is made with your pet's well-being in mind, easey and convenient to give to your pets.
The ESSIAC® for Pets capsule formula can be given with a small amount of food, or a convenient "pill pocket" that you can find in your local pet store.
The information on this website is not intended to substitute professional advice. It is provided only as information, by Altramed Inc. One should always remember to seek professional advice from a physician, pharmacist, naturopathic doctor, or other qualified health professionals when taking dietary supplements with other medications.